Residential Areas
Around 140 boarders live on the school grounds in various types of accommodation. What they all offer however is a family atmosphere with each residential area containing about ten students either of the same age or in mixed age groups. House parents live on the school grounds too, either with their families or alone and they supervise the residential areas.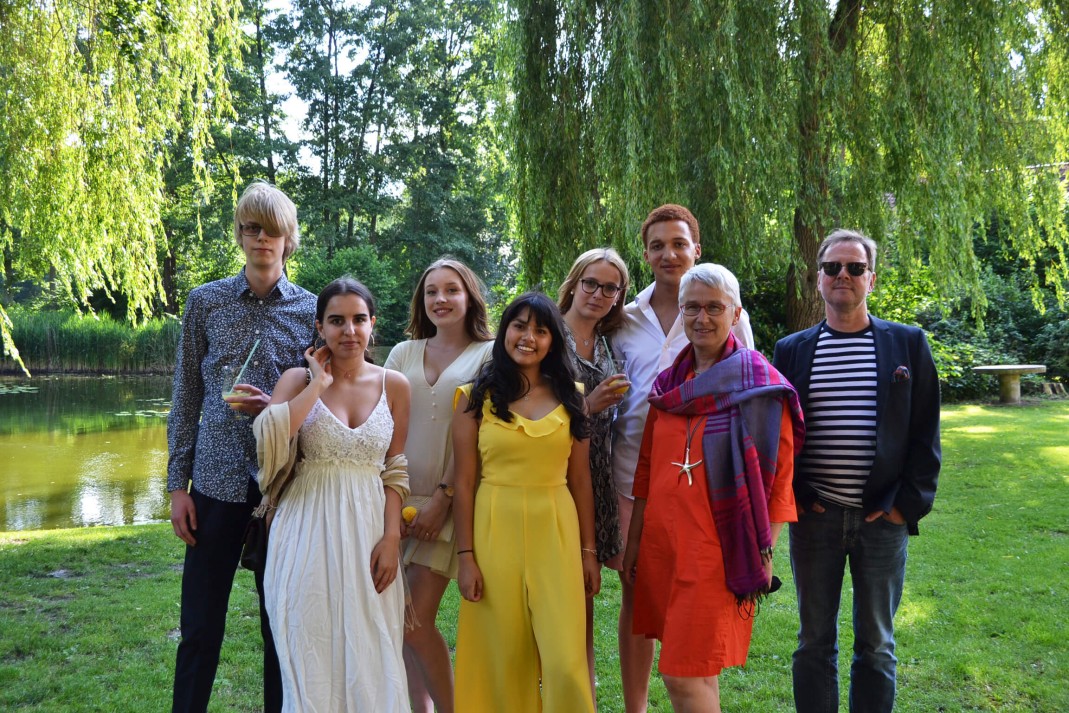 Community
---
Marienau regards itself as a community of teachers and learners. Life here enables children and young people to enjoy being in a group without having to give up their individuality.
Within these groups, girls and boys learn the value of regard for other people and being tolerant to differences. They learn both what a community needs to exist and what a community can do for individuals. The older they get, the more freedom they're given and they learn how to manage this freedom in a sensible and responsible manner.
There are various groups to which students can belong and many responsible adults they can turn to, enabling new students to quickly find their feet at Marienau.
Groups
---
We integrate our boarders in three ways. Alongside the class community for learning, we also focus on the residential areas.
The house parents are the first point of contact for both students and their parents and the house parents call Marienau home too. Between 6 and 12 boarders of a similar age live in the residential areas although two houses have mixed ages.
Thirdly, the boarders come together at meal times at their tables which are set. Each table is supervised by a Marienau member of staff who also helps arrange a weekly group activity on a Thursday evening such as cooking, games, sport or watching a film together.
---
---
---
---
Supervision
---
The staff who supervise the residential areas live permanently in Marienau, many of them with their families. They are employed as teachers or youth workers at the school and are always available to speak to our boarders and their parents. They ensure a safe and secure homely atmosphere for the children and young people from waking them in the morning, supervising study periods right up to saying good night.
Feeling at home is especially important for the younger students, while the older ones are allowed more and more independence. They are all encouraged to take responsibility within an appropriate framework such as by becoming a prefect.
Accomodation
---
In both the Lower and Middle Schools, double rooms are available while from Year 12 in the Upper School single rooms are on offer.
All the rooms are basically furnished and students normally take the opportunity to impose their own individual style onto their accommodation with pictures and personal items soon giving their rooms a homely feel.
In all residential areas, there is a kitchen and common room where the boarders can learn, chat, cook and spend time together.
To be new in Marienau means to re-organise oneself, your school day, your leisure time activities, make friends. So, it requires to get involved spheres of life.
This is a special challenge and who could work better als a guide than those, who already mastered this successfully. It makes us proud to say, that many students offered to take their role as a mentors for new students in Marienau.
At beginning of every school term new pairs of mentors and mentees are put together. 26 new mentors did apply for accompaning new students throughout a full term. There will be weekly meetings to be planned together, to spend some quality together with chatting  while i.g. cooking, doing sports, playing together. Doing so, mentors and mentees get to know each other better. That forms a solid base for being a trustful mentor offering support for all the smaller and the bigger hassles of a teenage life.
But of course, mentoring is not a one way street: Mentees as well as the mentors themselves will benefit from each other. Mentoring is something from which they achieve growth and what will influence their personal development.
We wish all mentors and mentees to have a good time together and to enjoy their new role!

Meals
All meals are freshly prepared by our award-winning kitchen from breakfast before lessons start, through to morning break and mealtimes at lunch and dinner. In 2019 the school received an award from the consumer standards office of Lower Saxony for the quality of its food as part of the Schule auf Esskurs project.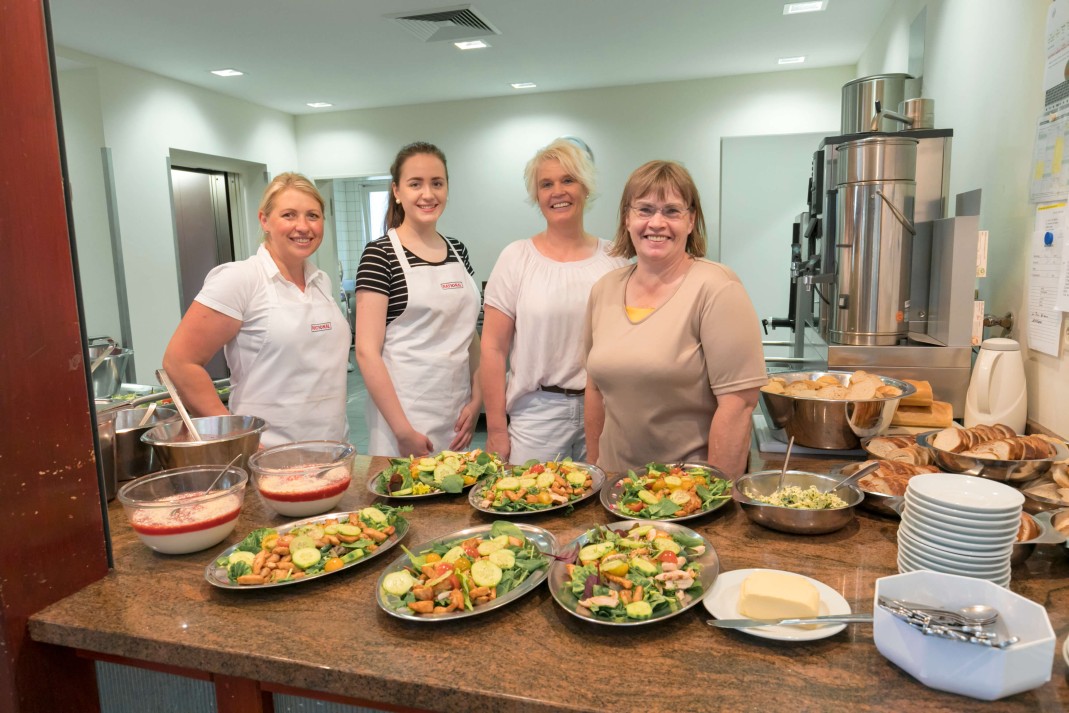 Freshly Prepared
---
All meals at Marienau are freshly prepared in the kitchen by Frau Boithling and her colleagues. We prefer to use regional, organic ingredients and as we prepare the food here on site, it's possible to take allergies, intolerances and dietary habits into account.
Everyone is invited to second breakfast during morning break while it's obligatory to attend our communal lunch so that the kitchen can plan accordingly. Any questions about meals can be directed to the school office.
Table Groups
---
Coming together to eat at the table is just as important at Marienau as it is in a family.
The students are allocated to their tables for a whole year and each group consists of eight people. They also eat together at dinner and spend Thursday evenings together in group activities.
Eating Togehter
---
The first meal of the day for our boarders is the breakfast buffet before lessons start. For our day pupils it's the second breakfast during morning break. Instead of bringing food to school, all Marienauers can enjoy each other's company and eat together.
Lunch provides the opportunity to relax and sit together and talk about the school day. All table groups help set and clear the tables according to a rota. After a supervised study period, there is also the opportunity for a coffee break before activities and further lessons in the case of the Upper School.
The Grand Dinner
---
Several times a year we hold a special dinner for all of the boarding pupils and staff. Unlike the usual table groups, on these evenings the students and staff sit together in their residential areas. It's a convivial occasion with a multi-course menu following a theme which is also reflected in the decoration of the dining room.
To add to the celebratory atmosphere, there's background music, acknowledgement for the students who have passed their probationary period and recognition of special occasions. On these evenings, appropriate dress is required for example, dresses, suits or jackets.
School Nurse
---
We take care about the well-being of our students in Marienau.
Marienau's school nurse Irina Haas is there for your child every day. If one of our students is not feeling well in the morning, he or she meets Mrs Haas. She will decide what to do, either taking care for the students here in Marienau or taking her or him to the local doctors' office. If neccessary, the school nurse also coordinates appointments at a medical specialist e.g. in the city of Lüneburg or such as physiotherapists in accordance with the families.
Mrs Haas, the house parents and the families at home exchange all relevant information about the childrens' health issues in order to fit their needs best.
Nutricion
---
Our kitchen prepares the food fresh every day and attaches great importance to regional, seasonal purchasing. From breakfast to dinner, our students receive varied, fresh food. In addition to the daily specials, there is always a vegetarian and vegan alternative. At dinner, we always offer a salad bar in addition to cold and warm dishes. Our kitchen is also equipped to cater for various food intolerances. The head of the kitchen, Anne Boithling, will be happy to answer any questions you may have.
Marienau School offers a learning environment based on trust in the middle of a generous expanse of forest and parkland.
Far from the busy city, your child will grow up as part of a diverse school community, learn about features of other cultures and develop into a confident and well-informed person. The school grounds are a place of safety and security, a retreat from the hustle and bustle and a space to find peace during the busy day. Why not an get an idea of what it's like here at Marienau and come and visit us? You're always welcome. 
Orientation map
---
Download our orientation map of the campus
herunterladen
---
---
Our various buildings form a harmonious whole and provide space for classes, residential areas, offices and other workspaces and the grounds bring tradition and modernity together. The original estate forms the centre of both the day and boarding school while modern buildings have extended and complemented the original core over the decades. The extensive grounds offer all Marienauers very special surroundings in which to learn, live and work.
---
The sports facilities and especially the large open spaces give our students plenty room to move. Our artificial pitch with its 400m running track, the beach volleyball court as well as the sports hall with its gym are always available for all Marienauers.
For runners and horse riders, the surrounding forest offers an ideal environment and students can enjoy the freedom of the grounds and spend time outside in their breaks. The school grounds are a huge privilege which we value very much.
---
The Marienau lake is the place where people love to meet, especially in the warmer months. The zip wire, boats and of course the water are a magnet for all, not just the younger children. It's also the place for games, barbecues and leisure time in the afternoons and weekends.
Activity evenings and games afternoons take place here and in warmer weather the many loungers and benches seem especially inviting. And it's even been known for classes to be held here too!